The Arnaudville Experiment
Feb 07, 2020
The Making of NUNU Arts and Culture Collective
Surrounded by crop fields, the tin-sided building at 1510 Bayou Courtableau Highway bears the Louisiana State Flag, the Acadian Flag, and the flag of Louisiana Creoles. The trio of ensigns represents the diverse, distinct cultures which form the community of Arnaudville, Louisiana. 
The 5000-square-foot structure, previously the headquarters of a longtime lumber business, is the home of NuNu Arts and Culture Collective–and the epicenter of the Acadiana town's revival.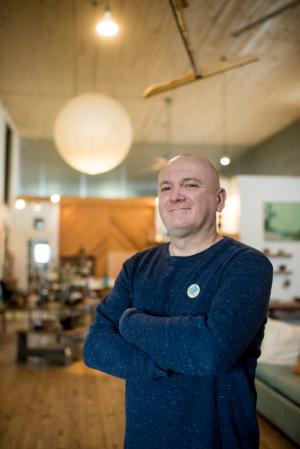 When George Marks, a visual artist and Arnaudville native, moved back to his hometown in 2005 prior to Hurricane Katrina, he found that the once-bustling town had become a collection of mostly derelict storefronts. Bordering the cusp of St. Martin and St. Landry parishes and the Bayous Teche and Fuselier, the town had been known as La Jonction, or The Junction. But, local business declined when Interstates 49 and 10 opened, diverting traveler traffic away from the area's waterways and highways. 
Marks sought to make Arnaudville a more viable place for people to live and visit, and with Arnaudville's rich Cajun French and Creole culture, he knew that it had the potential to be a real tourist destination if it could harness the preexisting local talent. He envisioned a multi-use space that could function as his studio, but also as an arts market, gallery, and venue.
In the aftermath of the hurricane, NuNu's became a place of refuge for artists who were displaced by the storm, many of whom Marks knew through the creative community. Marks realized he could connect these artists with the local population and introduce residents to new people and ideas. But, he needed community-wide participation; after all, a collective is defined as a cooperative enterprise. How do you bring people together? In South Louisiana, the answer is simple: through food. NuNu's began hosting Sunday potluck socials and invited everyone in the community to partake. 
"You really need to identify what your local assets are, but at some point you have to realize that the only way you're going to get local buy-in is if they're able to see their community through the lens of someone else," says Marks. "Once folks started hearing that people wanted to be here, they started questioning, 'what is it that I'm not seeing about the community I live in? What am I missing?'"
Once the potlucks gained momentum, Marks created other events designed to preserve and enhance the region's cultural identity, such as a weekly La Table Française (a French roundtable), a farmer's market, literary readings, arts markets, and plenty more. Turns out, if you build it, they really will come. By establishing NuNu's as a platform for arts and culture related programming, community members established book clubs, quilting circles, and bringing their work to show at the collective's Deux Bayous Gallery. 
Marks, who studied fine art at LSU, credits NuNu's success with its many collaborations and partnerships. As part of its international cultural exchange program, the Collective has hosted artists hailing from countries such as France, Canada, and Haiti. In addition, each spring it welcomes visiting LSU students who come to record oral histories in French, thanks to a partnership with the university's Department of French Studies. "The goal is not to change the community, the goal is to show people that creativity exists in other places, it's not this finite thing," says Marks. 
The collective builds coalitions, rather than competing with neighboring communities for tourism dollars. NuNu's established the Corridor des Arts, a byway connecting the Acadiana towns of Sunset, Arnaudville, Grand Coteau, Henderson, and Cecilia, to promote artisans and businesses in each place. NuNu's also teams up with other local businesses, such as Bayou Teche Brewing and Tom's Fiddle and Bow, to cross-promote culturally enriching events. 
After fifteen years of work putting Arnaudville back on the map, Marks is considered an authority for creative placemaking, which leverages artistic and cultural development as a catalyst for social and economic growth. Affectionately dubbed "The Arnaudville Experiment" by Marks, the town's slow-but-steady transformation has become a model for other rural communities. In 2008, Arnaudville received the designation of Deux Bayous Cultural District from the state department of recreation and tourism. NuNu's latest endeavor? Helping to establish the country's first adult French immersion school, St. Luc French Immersion and Cultural Campus. 
NUNU Arts and Culture Collective is located at 1510 Bayou Courtableau Highway. Visit nunucollective.org for more information or call 337-754-5990.