This Arnaudville historic home is being reborn as a model for cultural preservation & multilingual tourism. The best part? You're invited for an overnight stay.
[caption id="attachment_2461" align="alignnone" width="1024"]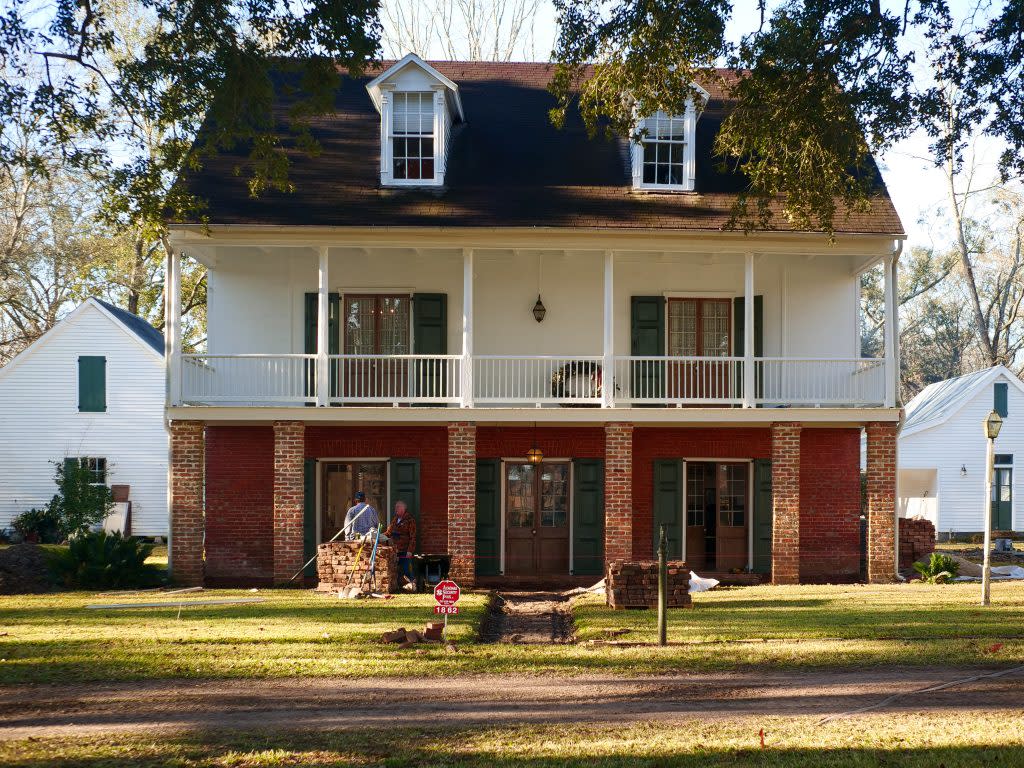 Photo courtesy of Brian Clary and Télé-Louisiane.[/caption]
St. Martinville native Kenneth Douet recalls passing Maison Stéphanie along Bushville Highway during childhood visits to his grandparents in Arnaudville. Back then, the traditional raised Creole cottage was known as Huron House. To local youngsters like Douet, the storied structure was a source of fascination and mystery. One old legend even speculated about the existence of a secret underground tunnel that led from the main house down to the banks of the Bayou Teche, half a mile away. 
Now, Douet is leading a new project to transform the historic home into a bilingual bed-and-breakfast and event space. 
The origins of Maison Stéphanie go all the way back to 1796, during the period of Spanish rule in Louisiana. It was built by Martin Duralde, an influential political figure in southwestern Louisiana and the French Basque commandant of the Opelousas Post from 1795 until 1803. The residence was home to several generations of families as the property changed hands over the years, until Douet and his husband, Rich Howes, purchased the twenty-acre estate in October of 2019. 
Douet believes the magic of Stéphanie is in sharing it with others. "We wanted to create a unique and authentic Cajun experience by restoring Stéphanie to its former glory," he says.
As a longtime French teacher and public school administrator, Douet always intended to make bilingual education a key component of Stéphanie's new chapter. Though he is now retired, Douet remains involved in local cultural preservation efforts. He partnered with Télé-Louisiane, a multilingual media platform, to help promote Maison Stéphanie as a "FrancoResponsable," or French-friendly, business as part of an initiative from CODOFIL (Council for the Development of French in Louisiana). The staff at Maison Stéphanie will speak English and French, and all signage on the property will be in both languages, too. 
They are also collaborating with other local dual language businesses to further support the parish's cultural economy. Breakfast will include fresh produce provided by Le Potager d'Acadiana, or the Acadiana kitchen garden, while event catering will feature flavorful fare from Café Sydnie Mae in Breaux Bridge, and The Little Big Cup in Arnaudville. All beer served will be supplied by none other than Bayou Teche Brewing, the Arnaudville brewery known for its weekly Cajun jams and zany limited edition releases.  
[Ever tried a boudin-flavored brew? Click here to read the story behind the family-owned bayou brewery with a mission to craft beers complementary to Cajun and Creole cuisine. ]
Last but not least, Douet and Télé-Louisiane are working with St. Martin Parish President Chester Cedars, the T.E.C.H.E. Project, and the St. Martin Parish Tourist Commission to eventually install a floating dock on Bayou Teche in order to give recreational paddlers access to the town of Cecilia, as well as Stéphanie's walking trails and buildings. 
As carefully as Douet is planning Stéphanie's exciting future, he's also preserving the memory of its lengthy and lively past. The property was placed on the National Register of Historic Places in 1998, and in late 2019, archaeologists from the University of Louisiana at Lafayette excavated three acres on the grounds. Their findings—fragments of glass, pottery, and ammunition—will be archived in the state historical record. 
Soon enough you'll be able to explore Stéphanie's heralded halls for yourself! Maison Stéphanie will open to the public in late 2020. Follow Maison Stéphanie's Facebook page for updates.
[gallery size="medium" ids="2468,2470,2471"]