How one Breaux Bridge teacher is passing Cajun music on to the next generation
[caption id="attachment_1718" align="alignnone" width="1024"]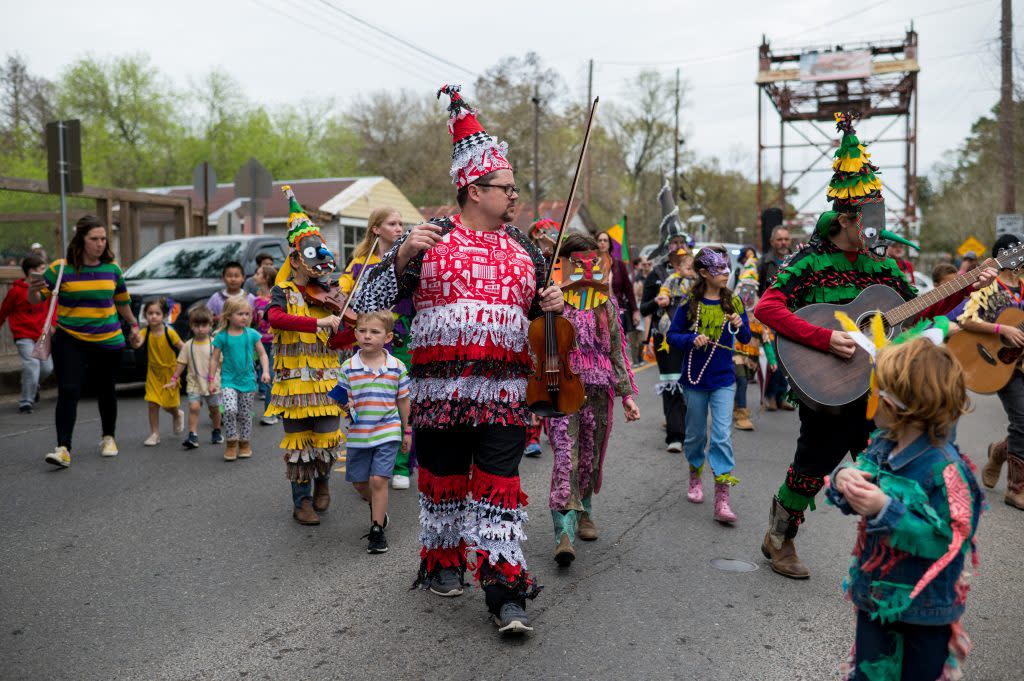 Brazos Huval, Cajun musician and music teacher, leads Teche Center for the Arts' Courir de Infantes in downtown Breaux Bridge in February. Photo by Paul Kieu.[/caption]
Besides our regional cuisine, there is nothing so fundamental to the cultural identity of Cajun Country as its music—the zydeco, swamp pop, Cajun, and Creole genres that originated in South Louisiana's rural prairies and swampland provide the heartbeat of this region. In St. Martin Parish, music instructor Brazos Huval is preserving this culture by teaching a new generation of Cajun musicians. 
Huval's students come from across the region to learn from the seasoned musician at his school in Breaux Bridge. His students, past and present, are regularly slated to play many of the same stages as Huval himself, including heavily attended regional festivals such as the New Orleans Jazz & Heritage Festival, Festival International de Louisiane, and the Breaux Bridge Crawfish Festival. "They're taking all my gigs," he affectionately jokes. Huval is modest about his role in his students' successes; with over a decade of teaching under his belt, he's educated hundreds of children and young adults on the fundamentals of Cajun music. 
Saying that Huval stays busy is an understatement. When he's not teaching kids how to transform their instrument's twangs into a tune fit for a fais-do-do, Huval can be found teaching the fiddle at the University of Louisiana at Lafayette, or performing with his siblings in the Huval Family Band at local mainstays like Tante Marie's. He's also the bassist for prominent Cajun band Steve Riley and the Mamou Playboys, and a founding member of the Teche Center for the Arts Board of Directors. It's no surprise, then, that many of Huval's pupils go on to form groups of their own—such as BelleRose Band in Breaux Bridge—and travel from as far as Lake Charles and Baton Rouge to take lessons from him. 
Though the Breaux Bridge native has been around the world and back, his favorite venue isn't located in some faraway country or worldwide stage—such as the Winter Olympics in Vancouver, which he played with the Mamou Playboys in 2010, or NPR's Tiny Desk series, which he appeared on with the group in 2010—it's right here in St. Martin Parish. "My favorite place to play is around here, the local places down home," he says. Huval often plays Cajun jams with his family at beloved local venues like Pont Breaux's Cajun Restaurant and Bayou Teche Brewing, and he's a regular instructor at Balfa Week, the annual Cajun and Creole music camp intensive put on by Louisiana Folk Roots at Chicot Park. 
Huval learned to play music from a young age, starting out on the saxophone and finding his way to the fiddle as a teenager. "Growing up, we always had live Cajun music within walking distance," he says. The fiddle is his specialty, of course, but Huval also plays and teaches piano, guitar, bass, drums, saxophone, accordion, and the mandolin. With thirteen musically inclined siblings, creative collaboration can get interesting, he says, but it always makes for a good dance. 
To those who'd argue that Cajun music is a dying art, Huval has some choice words: "Nothing could be further from the truth. There's a lot of young hot shots out there, you just have to get out and see them."
Huval is currently offering online music lessons open to all ages and skill levels. Contact him via Facebook if interested.