Tucked into the western side of St. Martin Parish, Lake Martin is a nature conservancy that is a well-known spot among locals for fishing, kayaking, and swamp tours. But one of the main attractions of Lake Martin is the natural rookery that is home to hundreds of species of birds, making it one of the top spots for bird watching in Louisiana. On a trip to Lake Martin you could see the brown pelican (Louisiana's state bird), the great white egret that is so well-known to the crawfishermen and shrimpers of south Louisiana, and the yellow-crowned night heron—you might better know them by their Cajun French name, the "gros becs."
The Nature Conservancy maintains the Cypress Island Preserve, where Lake Martin resides. Easily accessible from Lake Martin Road right outside of Lafayette, the Nature Conservancy also operates a Visitor's Center and a boardwalk at the south end of Lake Martin. The area affords some beautiful views of the sunrise and sunset over the swamps, which looks much as it did when les Acadiens (the Cajuns) first arrived from Canada. Visitors often make the loop by car on Rookery Road surrounding the lake, taking in the diverse array of wildlife from alligators to ever-present nutria, as well as the birds of Louisiana that can be seen at all times of the year.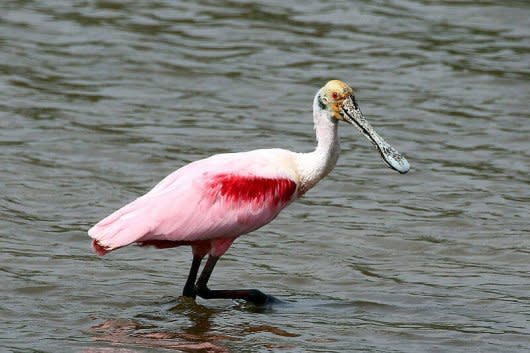 Roseate spoonbill, a beautiful and unique bird of Lake Martin. Photo credit: Charlesjsharp
Some of the best times to visit Lake Martin and see the birds of Louisiana are early in the year. Beginning around January to the beginning of February, great egrets begin nesting in the rookery, along with herons and spoonbills.  From March to June are the most active times for bird watching in Louisiana at Lake Martin. The efforts of the Nature Conservancy keep the area as clean, tranquil, and litter-free as possible, along with the locals who respect the land and wildlife that has sustained them for so many generations.
Lake Martin offers some of the best opportunities to see the diversity of the birds of Louisiana in one place. Take a look at the birding checklist from the Nature Conservancy to get an idea of the vast array of wild birds you might see in their natural habitat on a visit to Lake Martin.