In Good Faith
Oct 27, 2020
Leading by example, this St. Martinville priest is inspiring his community to live their faith out loud
During his twenty-four years serving as Father Superior at the Community of Jesus Crucified (CJC), Father Michael Champagne has not just become a role model for his St. Martinville congregation, but a pillar of St. Martin Parish as a whole. In recent years, Father Champagne has garnered widespread attention for spearheading a new style of evangelism by organizing public celebrations of faith that have put St. Martinville on the map.
"If everybody lived their faith and allowed it to influence their lives," Champagne says in a deep Cajun cadence, "they'd be in a happier place because of it." 
The New Evangelization
In 2015, Champagne started the Fête Dieu du Teche, a Eucharastic Procession by boat on the Bayou Teche. The Fête is held annually on August 15 to celebrate the Feast of the Assumption and to commemorate the anniversary of the arrival of the Acadians in 1765, who brought their Catholic faith to Louisiana during Le Grand Dérangement, or the Great Upheaval. The procession honors the physicality in the journey of the first Acadian settlers and of the act of pilgrimage itself, Champagne says, and manifests the divine in the public square. The day begins with a French Mass at 8 am in Leonville, presided by Bishop Douglas Deshotel, and as the waterborne procession makes its way down the Teche it disembarks at each settlement along the thirty-eight-mile stretch to St. Martinville. 
"I remember taking off from Leonville and gazing at the bus stop, and going through the woods into the bayou waters that I had fished in growing up, and I just cried," says Champagne, of his experience leading the inaugural Fête Dieu du Teche from his hometown of Leonville. "It was beautiful to see our Lord."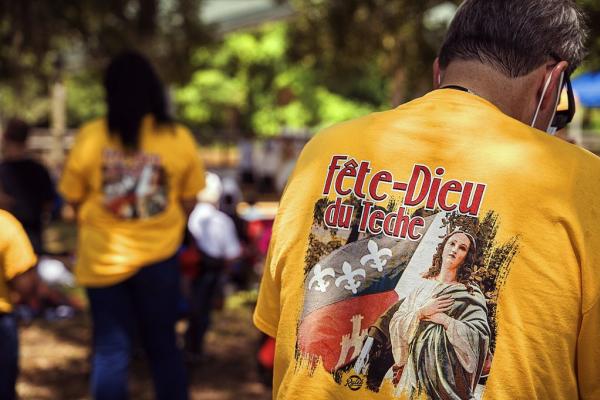 Photo courtesy of Fr. Michael Champagne.
A year after he started the Fête, Father Champagne organized the Jubilee of the Word Marathon in 2016, a cover-to-cover reading of the Bible held over five days. The nonstop reading was designed to rekindle a love for scripture and its role in our lives, he says. The oral reading is a parish-wide effort, with around three hundred volunteers taking turns to read for one hundred hours straight from a handmade Bible that was specially blessed by Pope Francis. Previous lectors have included Bishop Deshotel, Governor John Bel Edwards, and Louisiana Attorney General Jeff Landry. Other communities, like Holy Ghost Catholic Church in Opelousas, have even held their own Jubilee of the Word Marathons.
In His Image
To his parishioners, Father really does practice what he preaches. His warm, generous nature and giving spirit emulate the teachings of Christ himself, says St. Martin Parish Tourist Commission Interim Director Beth Guidry. "Father Champagne has a beautiful gift," she says. "He brings out the best in people, and he will not hesitate to help every person that crosses his path." 
The community has a stronger sense of faith thanks to the example Champagne sets, likely because there's nothing holier-than-thou about him. Father Champagne is all about meeting people where they're at—literally. Earlier this year, he converted an old ambulance into a mobile confessional, or "Spiritual Care Unit" that allows him to perform reconciliation on the go. He's also worked with hospice patients for fifteen years, traveling to provide spiritual counsel to parishioners who are sick and dying.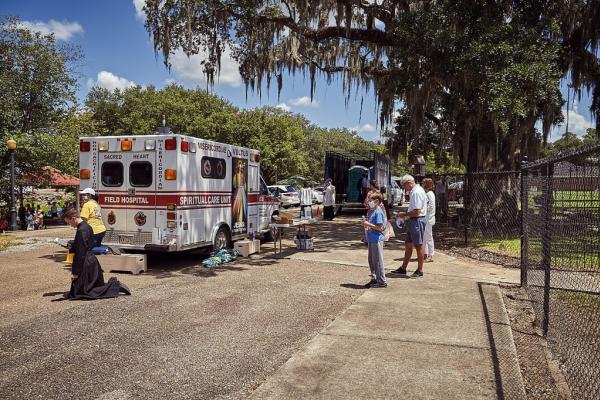 Given his role as a spiritual advisor, teaching and mentoring are also natural longtime passions of Father's. At the CJC, he leads the community's vocational discernment program, guiding young people in their vocational training in addition to teaching at the Notre Dame Seminary in New Orleans twice a week as an adjunct professor. In early 2019, Father Champagne—who is one of nine himself—opened The Oratory Don Bosco, a local youth center in St. Martinville offering free summer camps, after-school tutoring, and a recreation space for kids. For all his contributions to the community, people don't hesitate to return the gesture, donating work or materials for CJC's projects or helping to coordinate logistics. 
"It's his way of helping you realize that there's a way to practice your spirituality and practice your Catholicism and Christianity, which will eventually lead you back to the church. That's the Lord's work as far as I'm concerned," says Guidry. "That's why people love Cajun culture and our way of life. We choose to not ever let go of tradition, and he's a perfect example of that."
To learn more about Father Champagne's ministry, the Community of Jesus Crucified, click here.