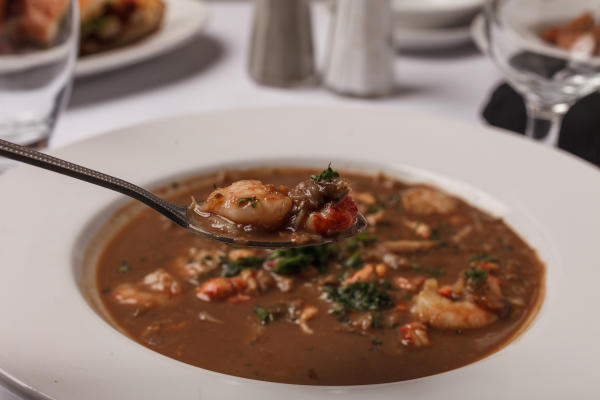 As the cooler weather begins to settle in, there's no better way to warm your soul and satisfy your taste buds than with a steaming bowl of gumbo. In St. Martin Parish, we've mastered the art of gumbo, whether you're a seafood lover or crave the classic chicken and sausage combo. Here are three must-try spots to enjoy a bowl of gumbo in St. Martin Parish.
---
Chicken on the Bayou
Experience a taste of tradition with Chicken on the Bayous Classic Chicken & Sausage Gumbo. This time-honored recipe features a luscious dark roux, tender chicken, and a variety of sausages. Best enjoyed with a side of hush puppies or potato salad. 
Cafe Sydnie Mae
Prepare to be wowed by a rich and hearty gumbo that's an instant local favorite. Packed to the brim with shrimp and crawfish, every bit is a flavor sensation that will stay with you, making it impossible to forget. 
The St. John Restaurant
At The St. John Restaurant, you can enjoy the best of both worlds with their Chicken and sausage Gumbo and Seafood Gumbo. You might just find it rivals a bowl of your momma's gumbo on a chilly day. 
---
These three gumbo spots are just the start of your flavor adventure in St. Martin Parish. Be sure to visit our Restaurants page for a comprehensive listing of places to savor this Louisiana classic.