St. Martin Parish, personified: Danielle Fontenette
Danielle Fontenette hasn't lived in St. Martinville her entire life. She was born in New York and didn't move "back," as she puts it, until she was nineteen years old. But really,St. Martinville has been home to her for much longer than that.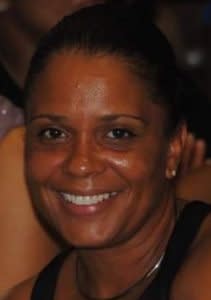 "I can trace my ancestors in this area back to 1730," she says. That ancestor was a settler named Andre Masse, who came directly from France a few years after St. Martinville's founding, decades before the Acadians driven out of Nova Scotia began to arrive in the 1760s. "St. Martinville was a place where more of your well-educated French came," she explained. "The French who first settled in this area: you're talking about military people, government workers. That's why it used to be called 'Petit Paris.' Here, education and etiquette are very important—even if we don't exhibit it every day," she adds with a smile.
She might have started life in New York, but Danielle is a St. Martinville girl through and through. "When I came back, it felt like I had never left," she says. "That's what St. Martinville does. Not only for the people from here, but for those who visit, too."
Having served as director of the African American Museum for twenty years—from 1999 to 2019—Danielle knows her history. She can tell you volumes about the arrival of Africans in Acadiana, and the development of the distinctive free people of color community in Southwest Louisiana.
The Record-Keepers
Whether Acadian, African, or French, if you want to understand the history of St. Martin Parish, St. Martinville is the place to begin.
"We're the record-keepers," says Danielle. "We exhibit more of the historical facts of the parish." So it makes sense that St. Martin's two museums of record—the African American Museum and the Museum of the Acadian Memorial—are both located here, within the St. Martinville Cultural Heritage Center.
For history buffs, other must-see landmarks include St. Martin de Tours Catholic Church and Evangeline Oak Park. Founded in 1765 and known as the "Mother Church of the Acadians," St. Martin de Tours is one of the oldest churches in America and the third oldest in Louisiana. Evangeline Oak Park centers around an ancient live oak tree growing on the banks of Bayou Teche, and named for the heroine of the poem Evangeline, written by Henry Wordsworth Longfellow in 1847. The Evangeline Oak has held the title of most visited spot in town since the late nineteenth century.
Danielle's other tourism tips include getting out on the waterway that has shaped the way of life in St. Martinville since its inception. "Don't miss any kind of activity on Bayou Teche because it is very unique and different to a lot of waterways," she advises.
Popular annual activities include the Tour du Teche, an annual race for canoes, kayaks and pirogues that travels the entire 135-mile length of Bayou Teche each October; and Father Michael Champagne's Fête Dieu du Teche: a 40-mile Eucharistic procession by boat, held every year on August 15 to commemorate the arrival of the Acadians, which stops at every Catholic church along the bayou.
Above all else, Danielle recommends simply slowing down and enjoying the small town atmosphere simply brimming with history.
"As I read and do research, I really don't think we've changed too much over the years," she observes. "Maybe that's why we haven't grown so large. It's not that we don't want to prosper; it's that we don't want to lose who we are."
Things to Do in St. Martinville:
Visit Belle Ecorce Farms. From her family farmstead on the banks of the Bayou Teche, Wanda Barras makes the best cheese in all of Cajun Country. Wanda loves having visitors out to the farm, so you can meet her goats—all individually named, of course—and learn first-hand why food tastes better when you know where it comes from. Learn more about how Wanda crafts her artisanal, award-winning varieties here. 
Explore the Longfellow-Evangeline State Historic Site. Louisiana's first state park presents an authentic recreation of the ways in which early Acadians lived and worked.
Sample the tried-and-true fare at local favorites. Danielle recommends The St. John Restaurant (don't miss the crab cakes), Jeaux's Restaurant (stuffed turkey wings), and Babe's Sno-Cones.