Welcome to the summer of #EatLocal—no jacket required
[caption id="attachment_2076" align="alignnone" width="1024"]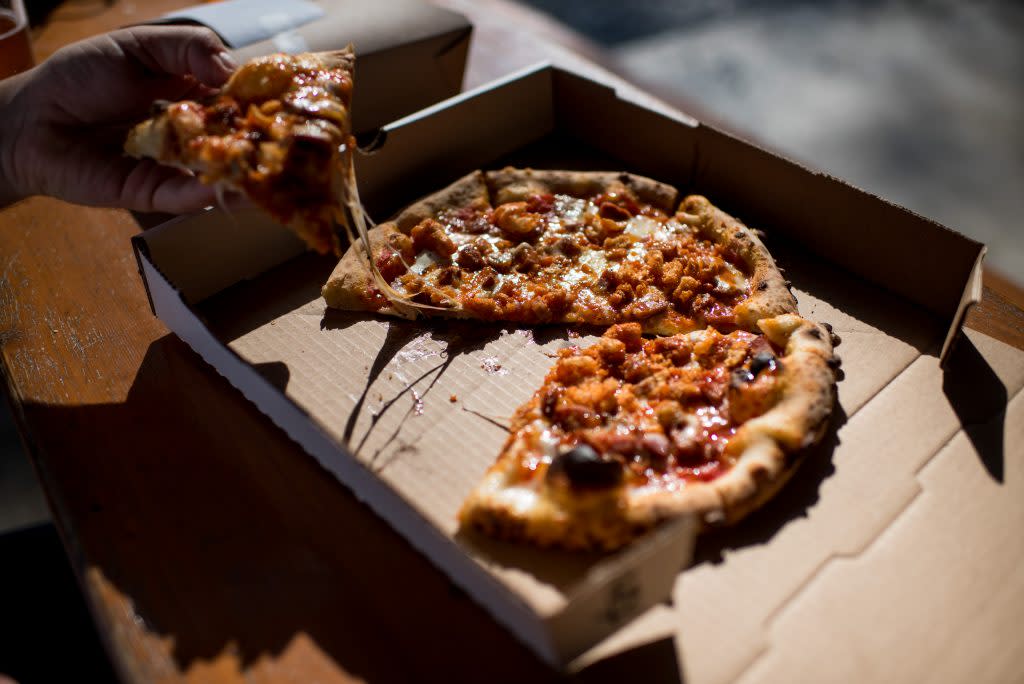 A brewery patron grabs a slice of pizza from the Cajun Saucer at Bayou Teche Brewing in Arnaudville, LA on November 29, 2019. Photo by Paul Kieu.[/caption]
In South Louisiana, where cuisine is the lifeblood of the culture—local restaurants and food producers form the backbone of communities big and small. St. Martin Parish, home of the town of Breaux Bridge (aka the "Crawfish Capital of the World"), is no exception. From Poché's Meat Market to A-Bear's Sno-balls, to mainstays like Buck & Johnny's and Chez Jacqueline, the talented, dedicated restaurant owners, food producers, and spatula-slingin' cooks here are far more than providers of culinary and cultural sustenance. They're a vital slice of the local economy. And more often than not, they're our longtime friends and family members, too. 
Now more than ever, local food businesses and restaurants need our support. 
The second annual Mange St. Martin, a culinary treasure hunt showcasing amazing food, presented by  the St. Martin Parish Tourist Commission, runs through the end of September. "Mange," (it's French for "to eat," for those more familiar with Cajun flavors than Cajun dialog) celebrates more than  sixty locally-owned restaurants, grocery stores, breweries, and food producers in the parish. It's an unmatched opportunity to discover the best of Acadiana's unique culinary traditions, so when you get that lunch special from Creole Lunch Box in Breaux Bridge, or grab your morning caffeine fix from Tante Marie's, you're not just satisfying that craving—you're investing in your community, too. 
With Louisiana in Phase 2 of reopening, restaurants have resumed table service at a fifty percent capacity. So you can dine in person or grab-and-go; whatever suits you best. If you're looking to treat the family graduate or finally have that date night you've been postponing for months, consider Cafe Sydnie Mae in Breaux Bridge or The St. John Restaurant in St. Martinville. Or, if you're finally ready for a happy hour that doesn't require a Zoom password, you can count on a warm welcome at Teche Bar in Parks, Arnaudville's Bayou Teche Brewing, and Turtle's Bar in Henderson (keep an eye out for gators at this last one, though—Turtle's sits right on top of the  levee overlooking the Atchafalaya Basin.) 
Keep in mind that Mange St. Martin isn't just about restaurants, either. With local grocers like Rees Street Market and The Fruit Stand participating, you can get all your supplies for cooking  at home, too. You can even order online from specialty meats purveyors like Poche's Market, and really, is there any better gift for that Louisiana native who's moved away than receiving a fresh, chilled package of meat in the mail?
"Many visitors travel far and wide to our region in order to experience the authentic Cajun and Creole cuisine we have available right here at home," says Dona Richard, Director of the St. Martin Parish Tourist Commission. 
Whether you're in the mood for a sophisticated Cajun/Creole feast, a pile of fresh seafood, or just looking to beat back  the heat with an ice cold daiquiri by your side, there's no shortage of options—all you need is your appetite, with a little bit of community spirit on the side. From old fashioned plate lunches at Jeaux's in St. Martinville to weekend buffet brunches at Arnaudville's The Little Big Cup, Mange St. Martin makes it easy to experience the best cuisine that South Louisiana has to offer. Knowing that you're helping a community and a culture thrive, makes every bit just that little bit sweeter, too.
Be a hero! Head to mangestmartin.com for the full list of participating restaurants, and remember to eat (and drink) local this summer.