Saturday mornings call for a two-step!
[caption id="attachment_865" align="alignnone" width="1024"]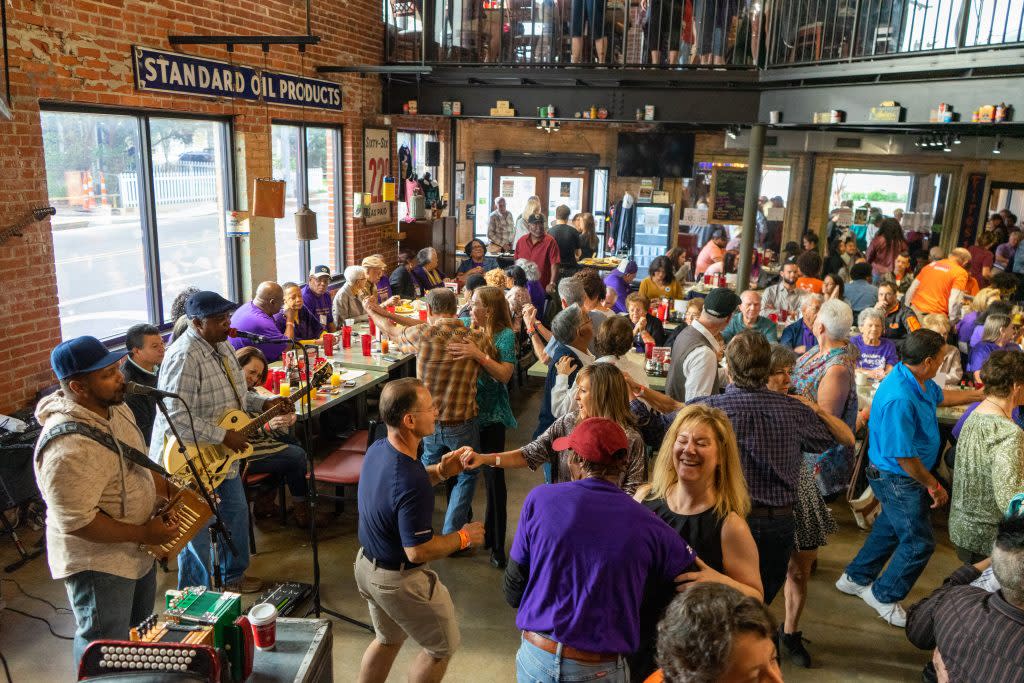 Photo by Frank McMains.[/caption]
On a Saturday morning in Breaux Bridge, rarely will you find zydeco-loving residents sleeping in. Rather than snooze the alarm, locals and visitors alike wake up early to secure a spot in line outside the old Domingue's Motors building at 100 Berard Street. The crowds turn out in droves for Buck & Johnny's World Famous Zydeco Breakfast, says co-owner Coatney Raymond. The restaurant hosts about 200 people each breakfast, she said. Raymond would know—she mans the door, and greets each guest like family. "You really want to make people feel like they're the most important person in the world," says Raymond.
Buck & Johnny's Zydeco Breakfast feels like a fitting start to Saturday in Cajun Country.  The Zydeco Breakfast is first-come, first-serve, and admission is $5. Once you're inside, it's close quarters, but it's easy to see why. Couples take to the dance floor to shimmy, swing, and sway while zydeco musicians like Corey Ledet & His Zydeco Band and Jeffrey Broussard & The Creole Cowboys play traditional instruments like the washboard and accordion. All that dancing makes for a hungry stomach, so gorge yourself on a boudin-stuffed omelet, grilled boudin, or crawfish étouffée grits from Chef Tony Savoy. Guests of age can enjoy bottomless mimosas and bloody marys with their Cajun breakfast.
The Zydeco Breakfast attracts tourists across the globe to the Crawfish Capital, Raymond says. And the tradition has only grown in popularity since it was moved to Buck & Johnny's after Cafédes Amis closed its doors in 2017. "It's ensuring that our culture is still here, and it put us on the map," Raymond says. "It's changed our lives forever," added Rhonda Branch, Raymond's daughter-in-law, who manages the eatery.
Nestled in the heart of Breaux Bridge's historic downtown district, the beloved Cajun-Italian hotspot also features live music in the evenings Thursday through Saturday. Yvette Landry and Richard Comeaux have a standing residency at Buck & Johnny's every Thursday night, and Doyle Tauzin plays acoustic country classics every Friday. Besides breakfast, Buck & Johnny's has a mouthwatering lineup of lunch and dinner entrees, such as the Catfish Breaux Bridge and Crabcake Coatney, as well as daily specials and plenty of pasta and pizza (even with cauliflower dough!) to go around. The restaurant bar, the Filling Station, is an ideal hub for Acadiana nightlife with local brews on tap, an extensive inventory of Kentucky bourbon, and signature cocktails with Louisiana-inspired names and ingredients such as the "Bayou Sidecar" made with Bayou Satsuma Rum Liqueur.
Buck & Johnny's also hosts a neighboring event space for private parties, receptions, and more. For reservations, event details, and hours, visit buckandjohnnys.com or call 337-442-6630.